In this post, you will be able to know how to root Redmi Note 7 Pro using Magisk right now. So, let's get straight to the topic further.
Xiaomi Redmi Note 7 Pro is the Predecessor to the Redmi Note 6 Pro and the latest flagship smartphone in the Xiaomi Note series at the moment of writing this article. The device, RN7 Pro, was launched back in Feb 2019 globally. The device, Xiaomi Redmi Note 7 Pro, is very popular among consumers because of the specifications being offered at such a good price. The device is powered by Qualcomm Snapdragon 675 octa-core processor and comes up with 4 GB of RAM and 64 GB Of internal storage which you can easily expand up to 256 GB using a micro SD card. If we talk about other specifications then this device has dual rear cameras of 48 MP + 5 MP and a front camera of 13 MP. Now let's get into the main topic of the article.
Guide To Root Xiaomi Redmi Note 7 Pro (Magisk)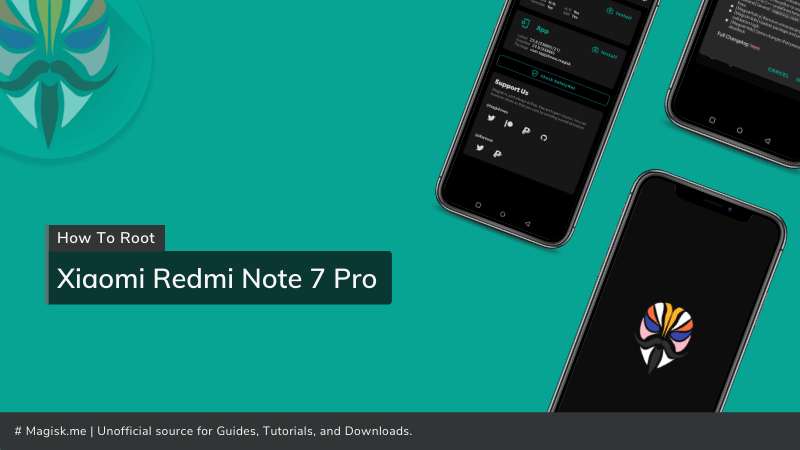 This is the official guide to root Redmi Note 7 Pro using Magisk. Please follow each section of the guide very carefully.
Disclaimer
Rooting the device, flashing ZIPs, unlocking the bootloader and any type of system modifications terminates manufacturer warranty of your Xiaomi smartphone. So, please perform such actions at your own risk. However, relocking bootloader and unrooting the device is possible. But, in some cases the phone stucks in the boot mode. So, we don't take any responsibility if any such things happen.
Unlock Bootloader on Xiaomi Redmi Note 7 Pro
By default, every device by Xiaomi now comes with a locked bootloader with the sole purpose to secure the OS and the user's data. So, in order to root Redmi Note 7 Pro, you need to unlock the bootloader of the device first. Without unlocking it you wouldn't be able to perform any of the further steps to root your device.
You can check out the guide on – How to Unlock the bootloader of the Xiaomi Redmi Note 7 Pro
Install TWRP Recovery On Xiaomi Redmi Note 7 Pro
Before going into the rooting process, you need to install TWRP Recovery on Xiaomi Redmi Note 7 Pro. After installing TWRP you would easily be able to root your device via flashing Magisk ZIP. Rather, you will also be able to do a couple of other things like flashing ROMs, kernels, and images, etc.
Steps To Root Xiaomi Redmi Note 7 Pro by flashing Magisk ZIP
I hope you have already unlocked the bootloader of your device and installed TWRP Recovery on it. If, yes then you are good to move forward.
Note – Before you start rooting your device, I would recommend you to take the backup of your device because it can be wiped out during the process, and make sure that your device is also charged at a good battery level. So that you don't have to face any kind of battery issue.
First, you need to download the Magisk ZIP
Then, transfer the downloaded file into the folder where you can easily locate it further.
Now, shut-down your device and boot it into the TWRP Recovery mode by pressing the " Volume down +power button" altogether.
Then, click on the 'Install' section of the TWRP Recovery mode.
Now, browse the file that you have transferred in step-2.
After performing the above steps, you will see 'Swipe to confirm flash' button on the screen, just swipe the button to flash Magisk ZIP and Root Xiaomi Redmi Note 7 Pro.
Now, you have to wait until the process comes to an end and then press the 'Reboot system' button.
So that's it now you are able to root Xiaomi Redmi Note 7 Pro via Magisk ZIP. You can also confirm whether your device is rooted or not using the Root Checker Application.
If you have any kind of query regarding the rooting process, kindly do let us know in the comments box below.